Dates Pickle
100% Homemade Taste
Pure Mustard Oil
No Added Sugar
No Added Preservatives
Less Oil
Low Sodium
Dates pickle or "khajoor ka achaar" is the taste of the hilly Indian state of Himachal Pradesh in a jar.
It's made of premium seedless dates (52%), Juice of hill lemons (galgals)(38%), which are rare to find, and a smattering of spices like – turmeric (haldi), red chilli (laal mirchi), carom seeds (ajwain), fenugreek seeds (methi). We use mustard oil (sarso ka tel) to both cook and preserve the pickle for a longer shelf life.
Our pickle is home-made, has no added sugar, has no added preservatives, is made with less oil, has low sodium, is a natural and healthy product.
The pickle tastes sweet-sour-tangy with a kick of spice and pairs well with paranthas, khichdi, curd rice, matthi and all regular Indian meals. You'll definitely find yourself reaching out for this jar because our dates pickle makes every meal Aweri special meal!
Shelf life of the pickle is 12 months. Pickle is packed in PET jar which is re-usable and can be recycled! 😊
View full details
We can optionally add additional description to our product options/variants here. Ex: Weight/Size guides, or other common questions.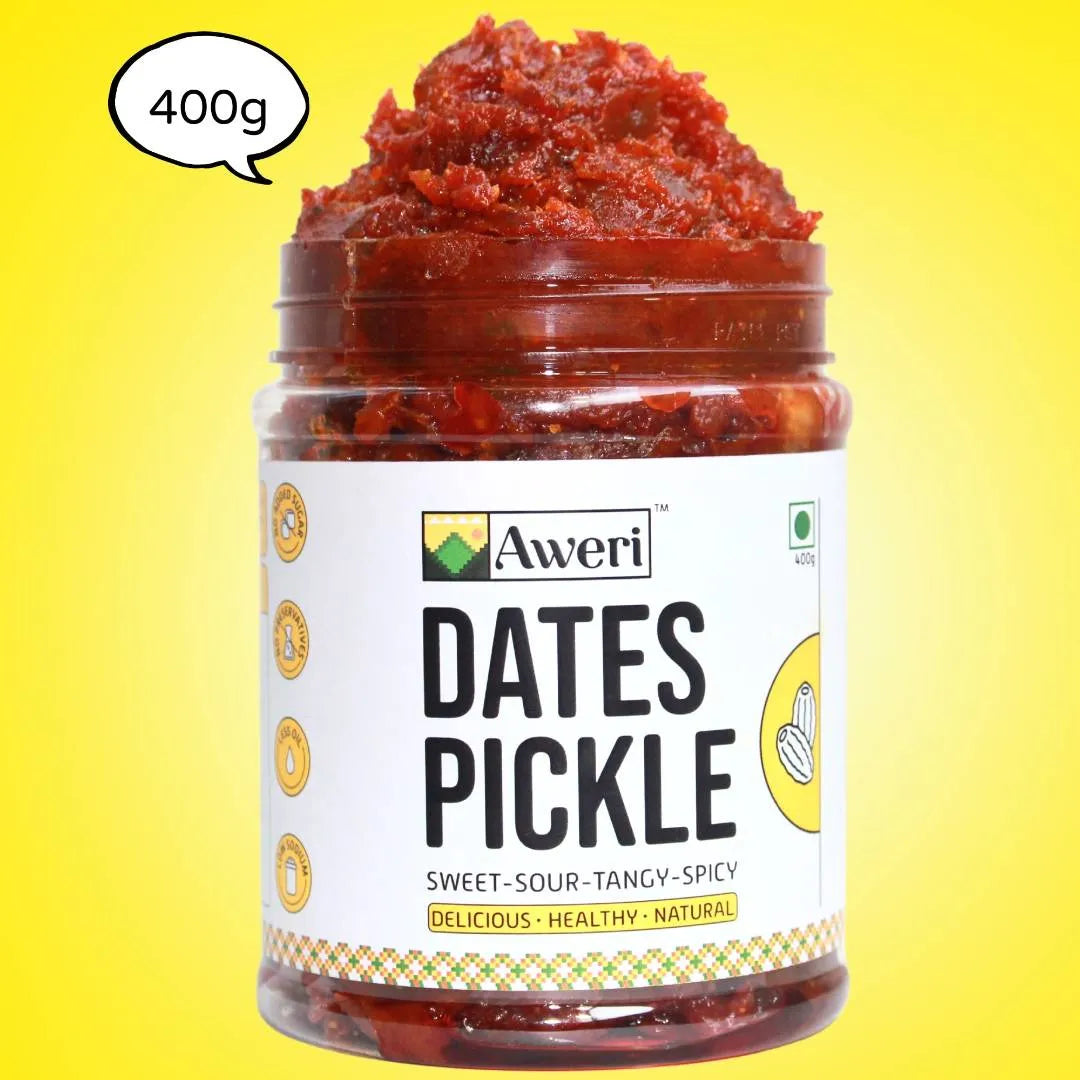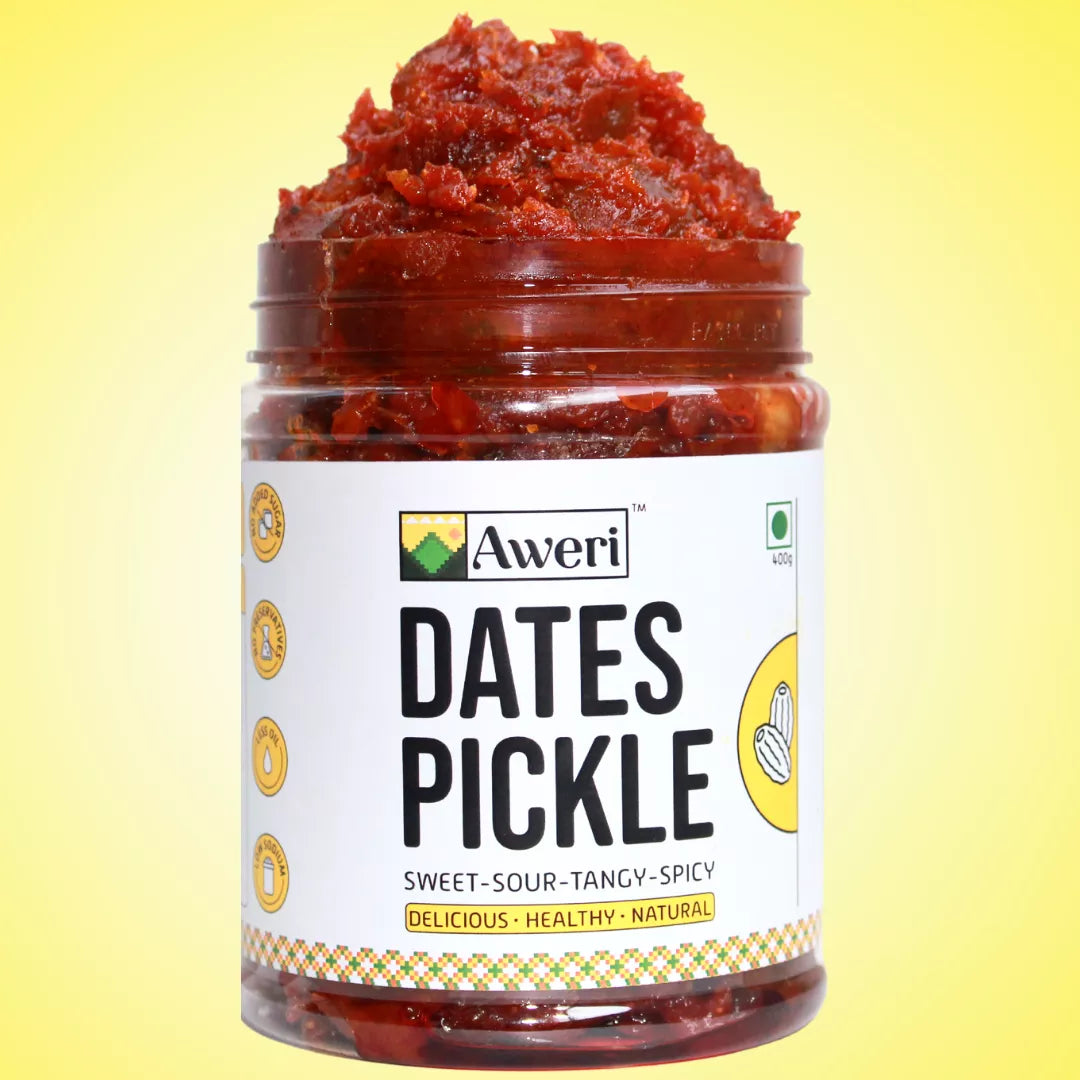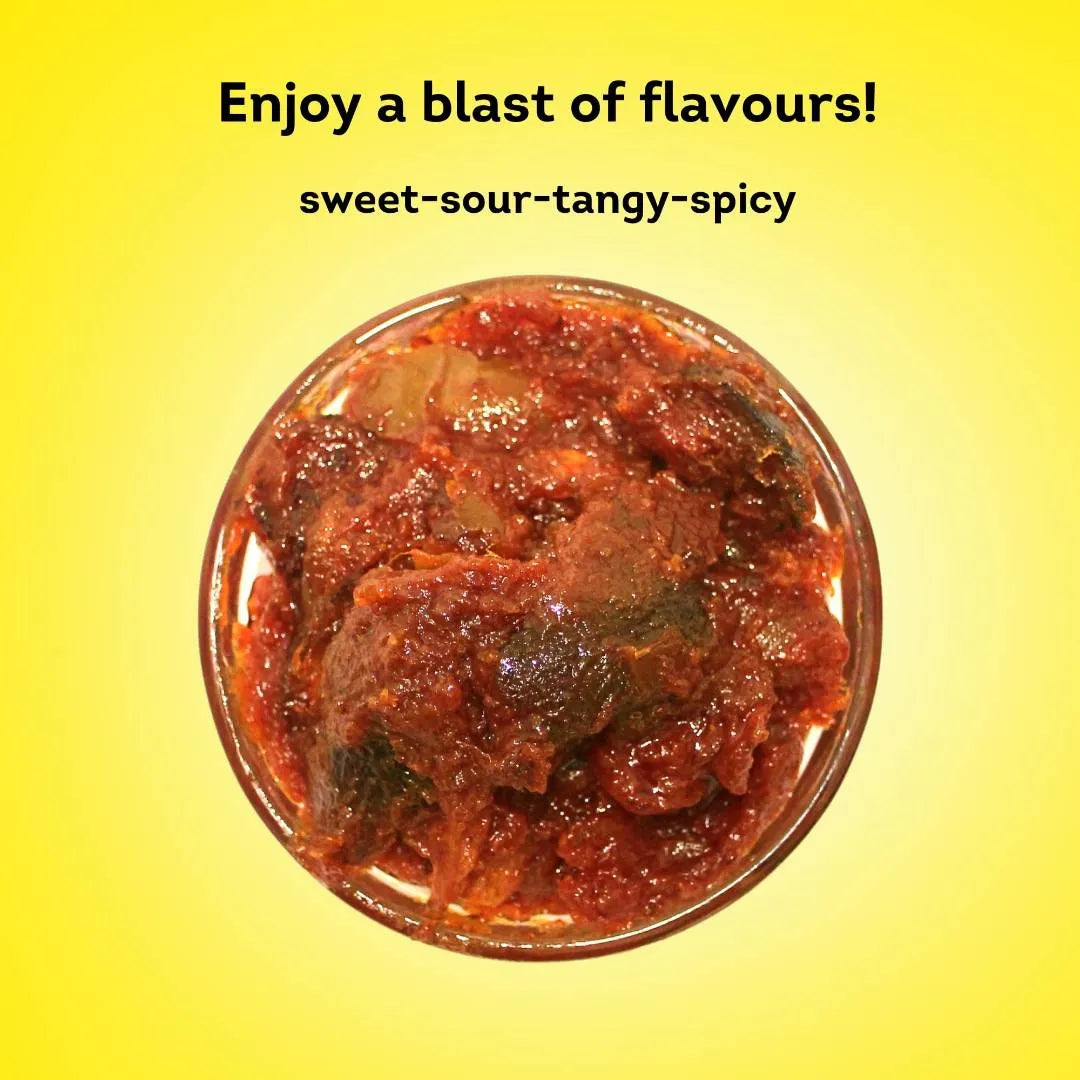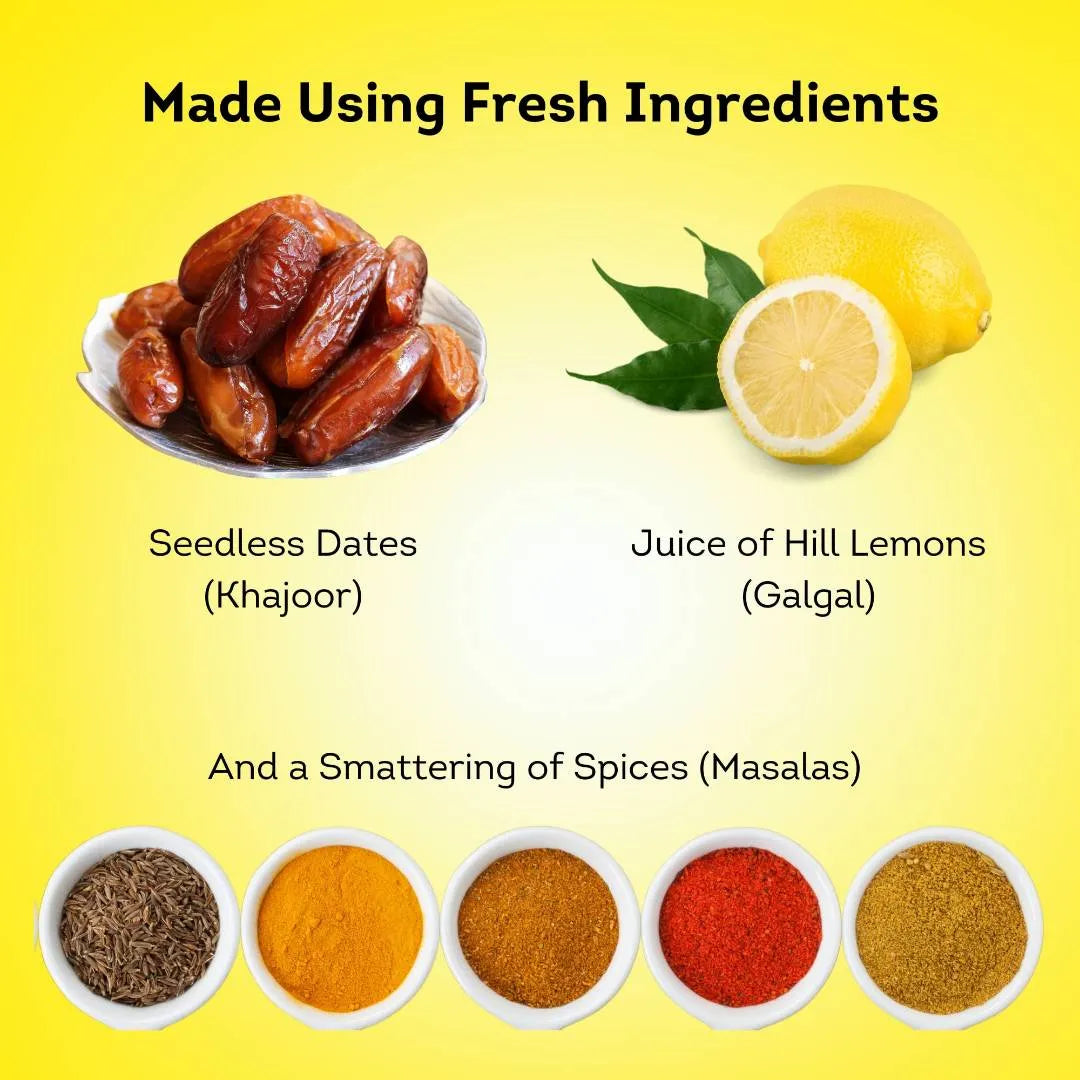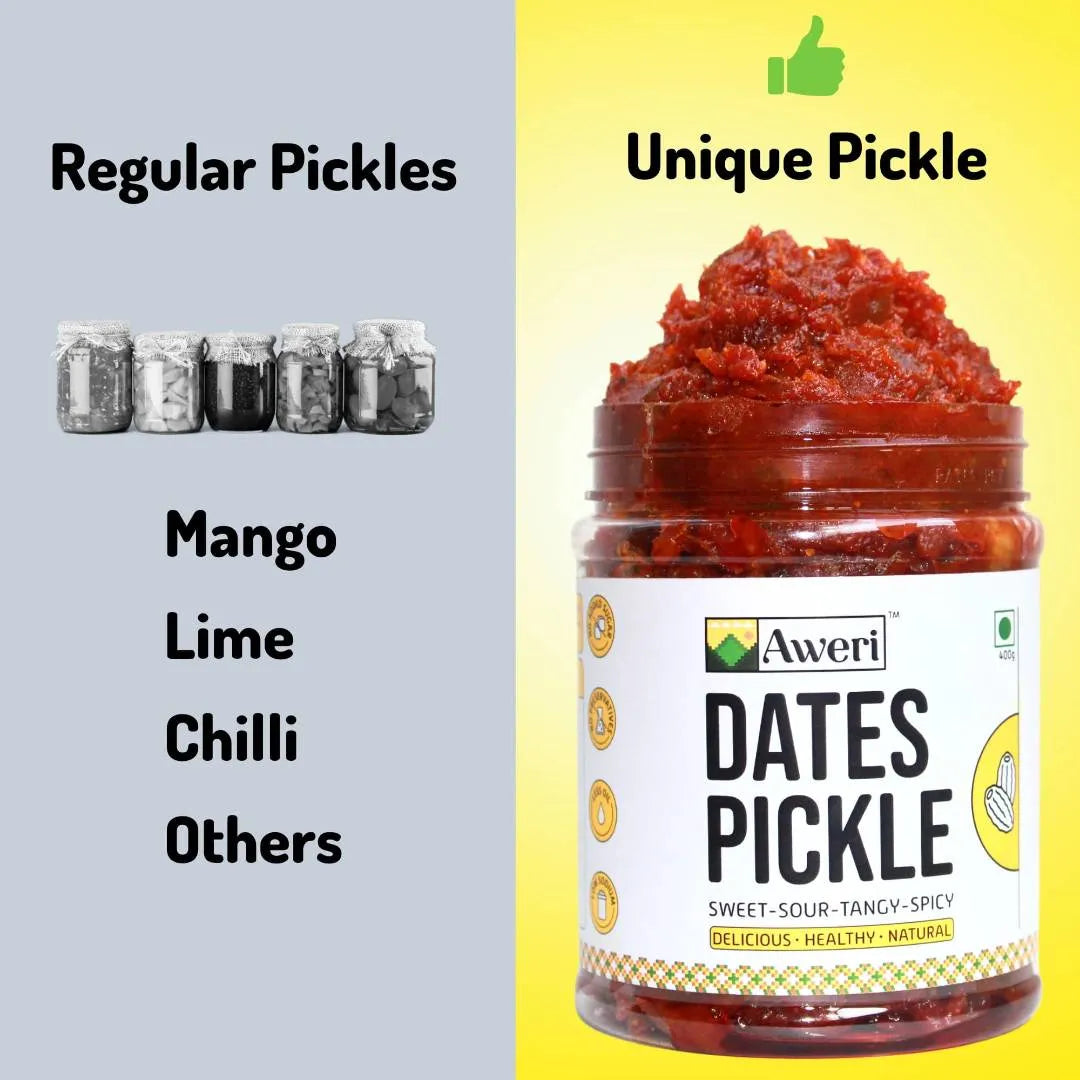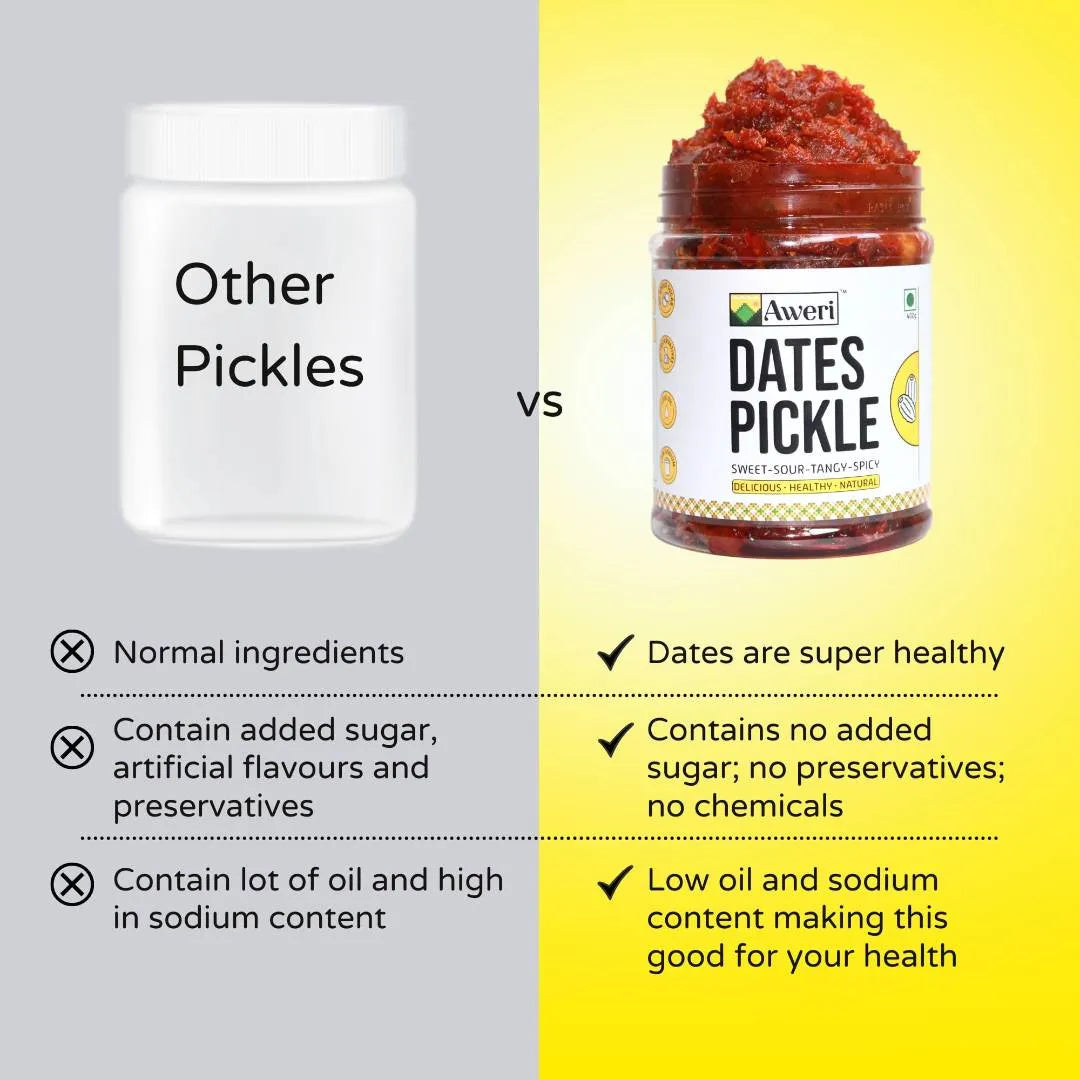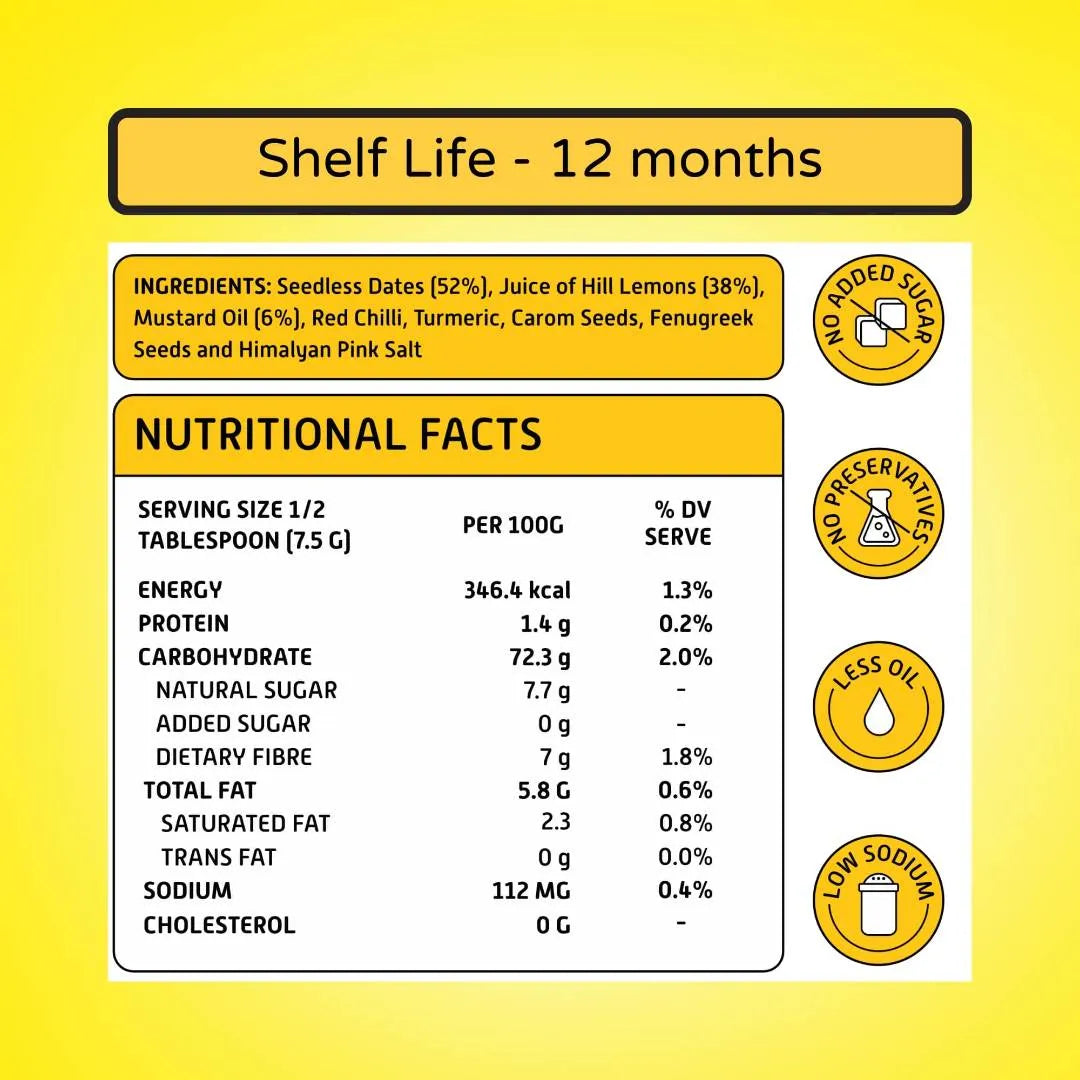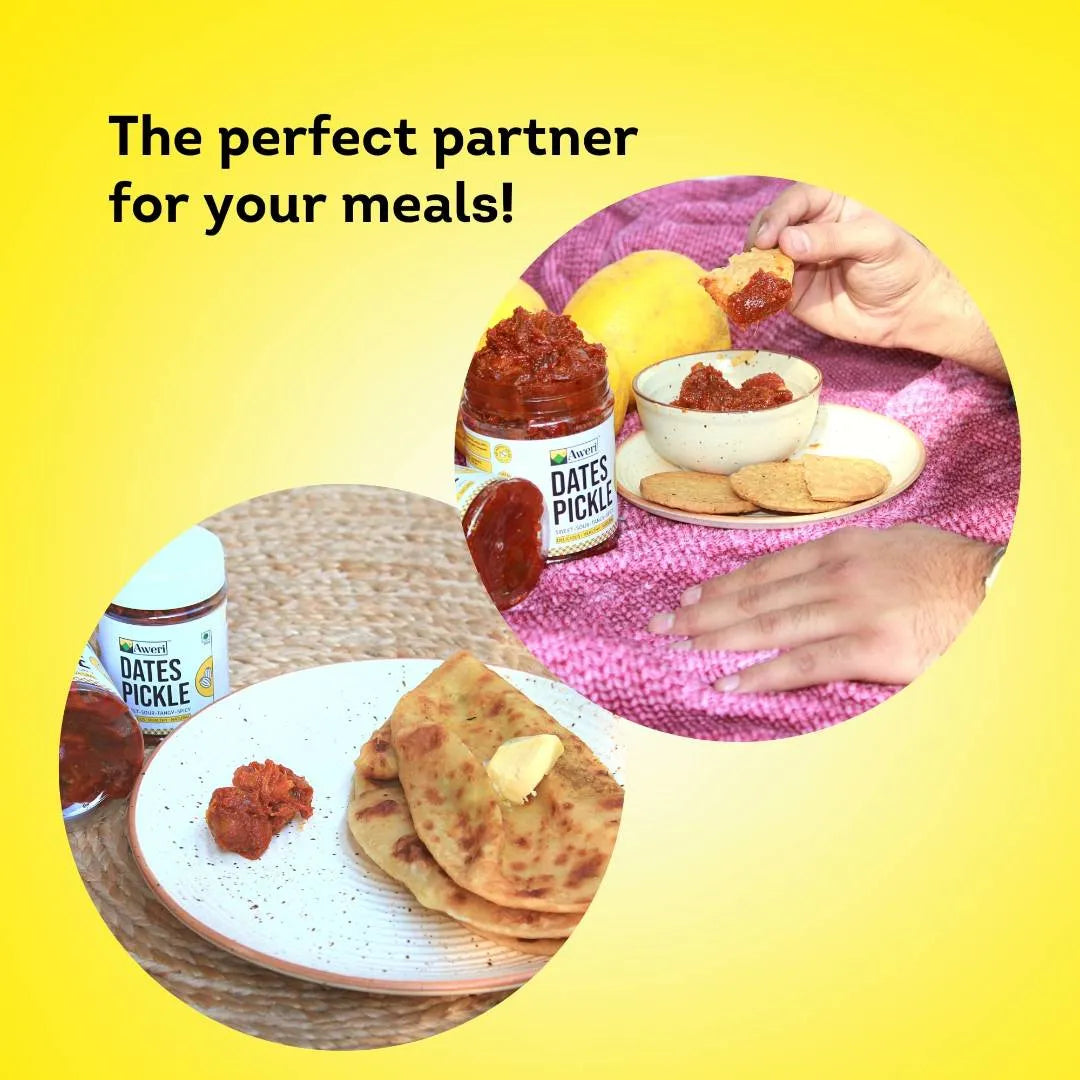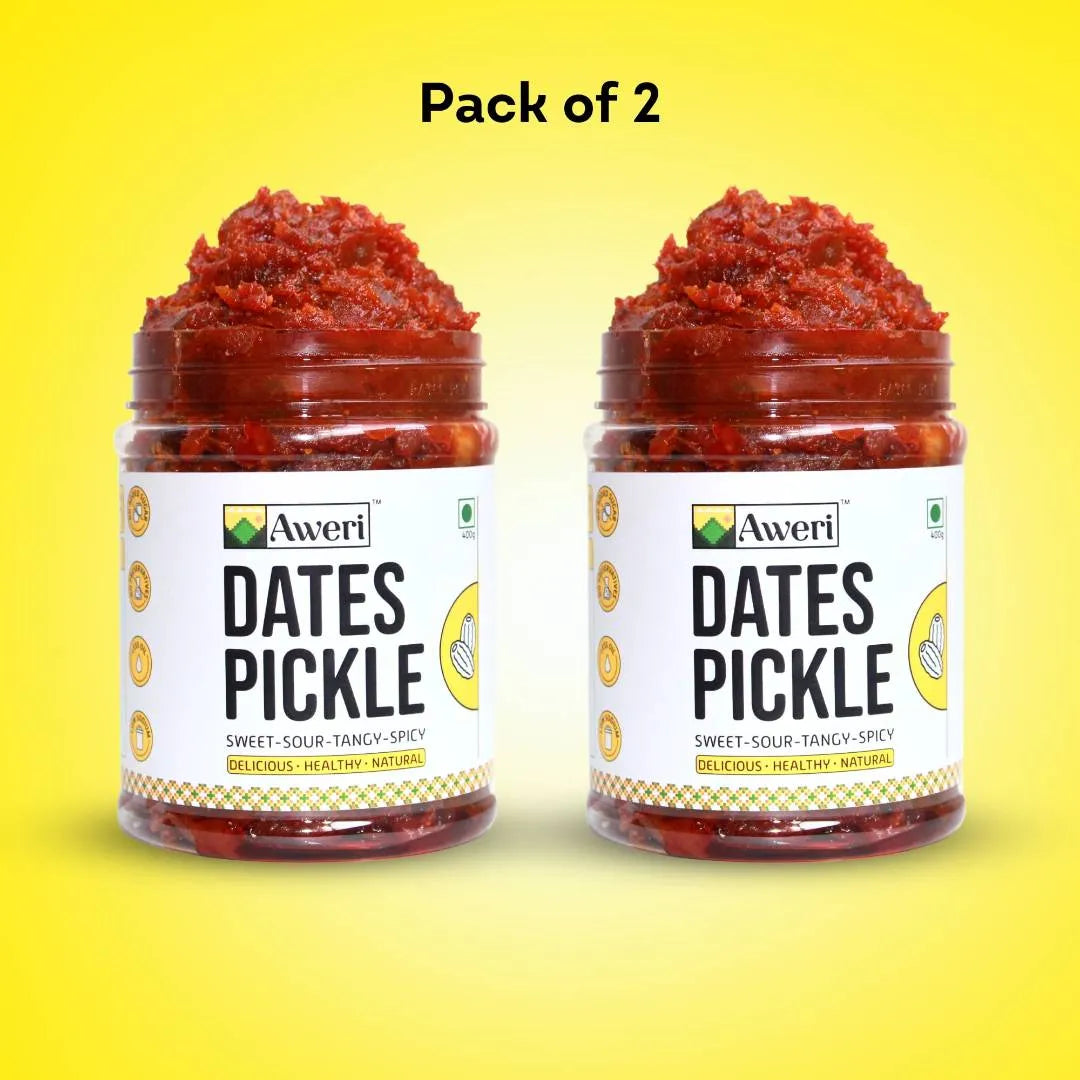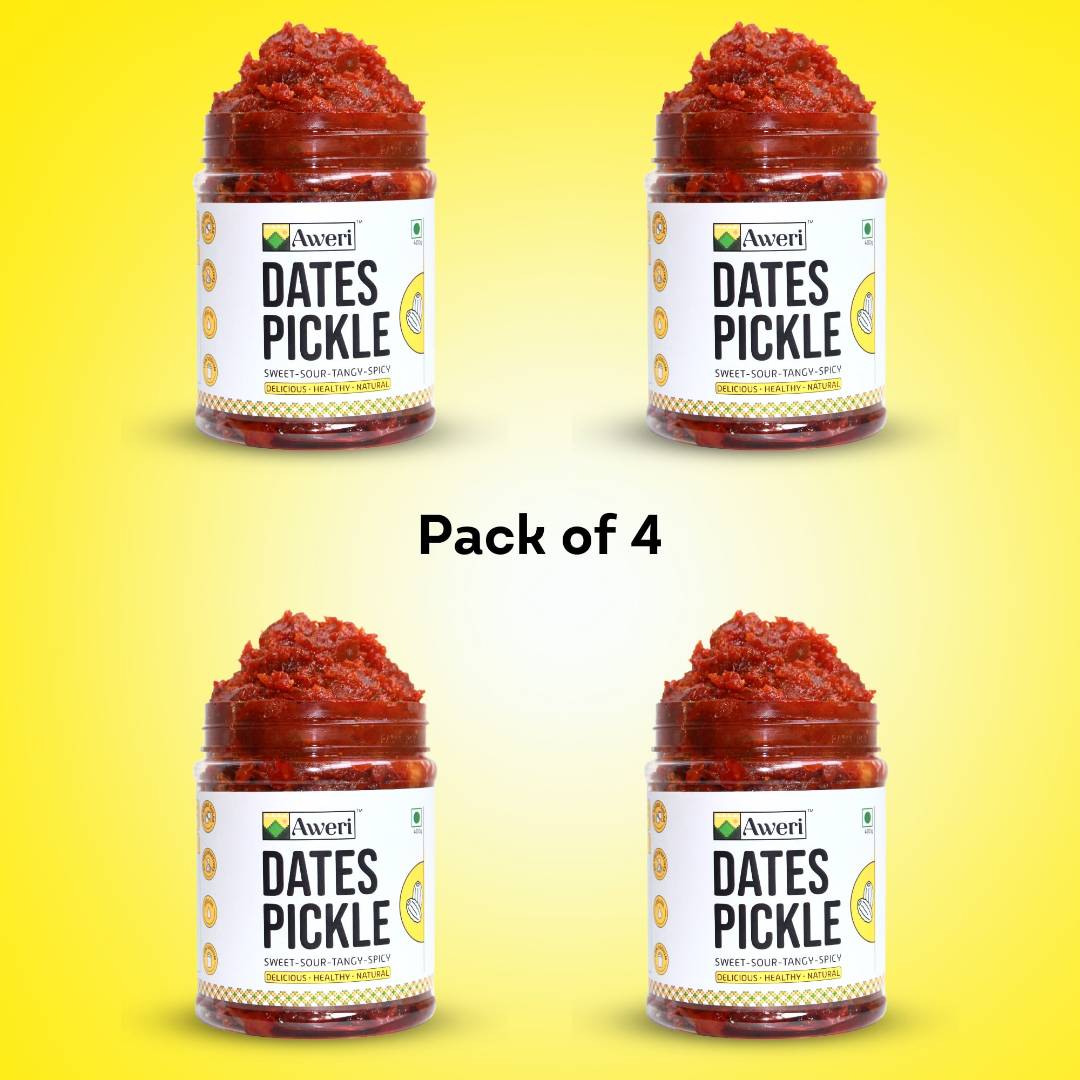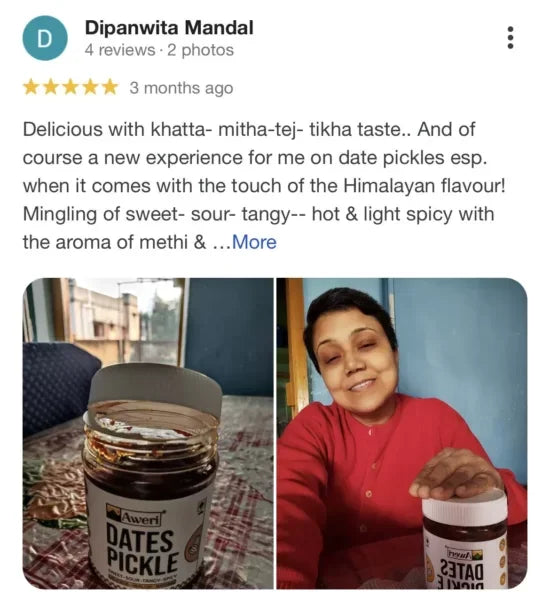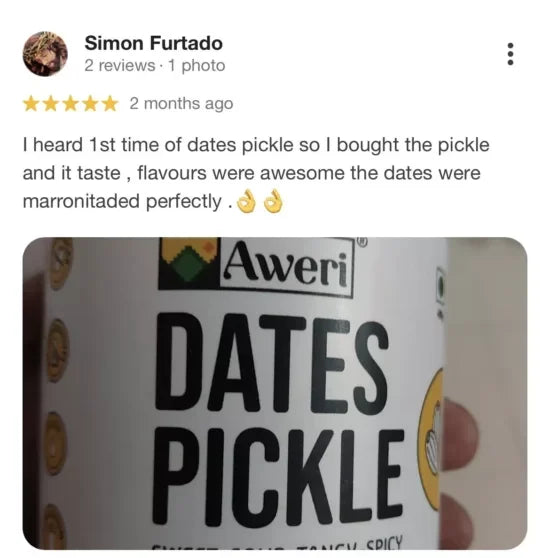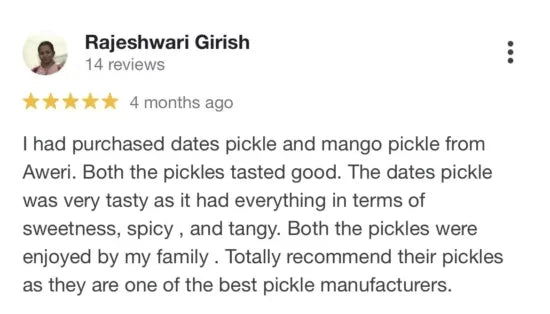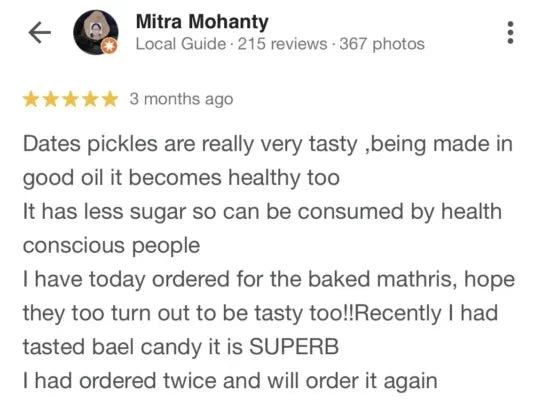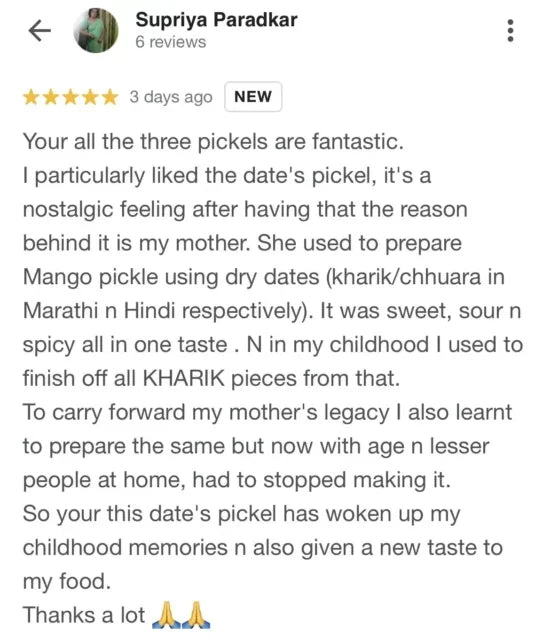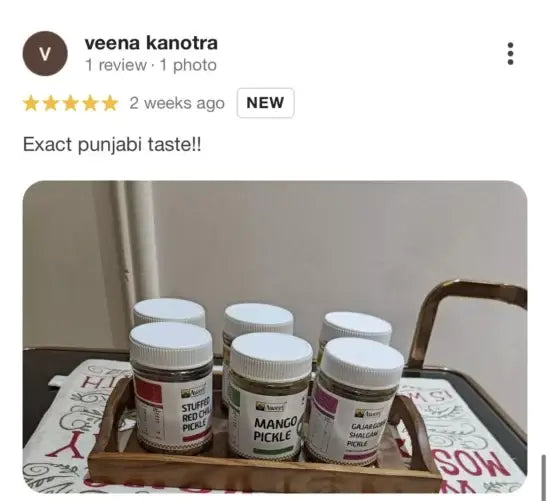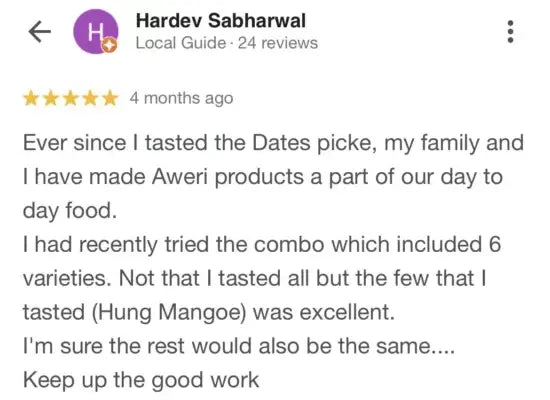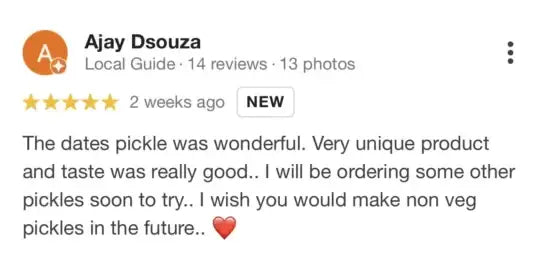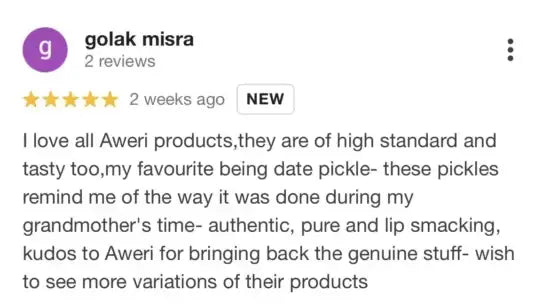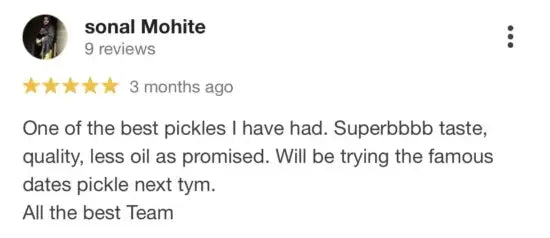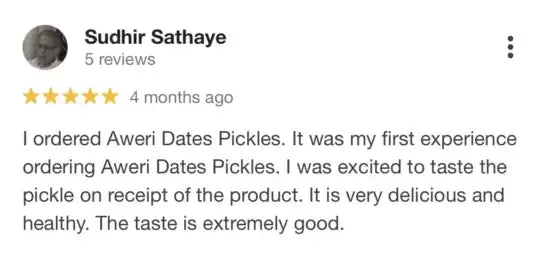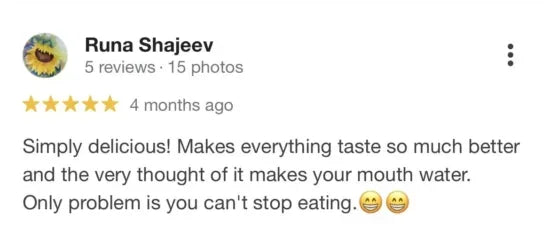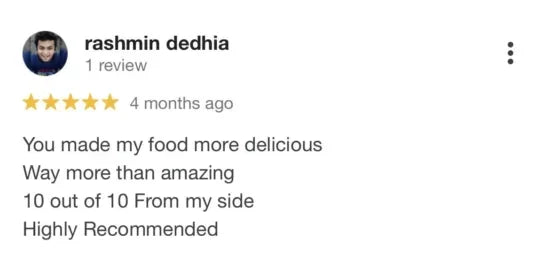 You will love this too...
It's Dates Pickle
We've all eaten different kinds of pickle, from homemade to store bought, from mango to garlic, but this is a family Himachali recipe that uses dates and the juice of Hill Lemons to deliver a fantastic pickle!
No Added Sugar
Most store-bought pickles have a host of ingredients, one of them being sugar. Aweri Dates Pickle has none of that and this makes it a great choice for people who have diabetes. 
No Preservatives
Made in small batches, our recipe uses the natural goodness of mustard oil for preservation. In fact, our dates pickle gets yummier with age!
No Cholesterol or Trans Fat
Often when you open a jar of pickle, the sight of an oasis of oil is off putting, isn't it? We're quite health conscious at Aweri and this is why we make a conscious effort to keep the oil used in our pickle at the minimum. Ergo, a pickle that has no cholesterol and no trans fats.
Vegan
If you're a vegan, go ahead and order yourself some of our yummy pickle.
Seedless Iranian dates (52%)
Juice of hill lemons (38%)
Mustard oil (6%)
Turmeric
Himalayan salt
Red chilli
Fenugreek seeds
Carom seeds
12 months from the date of manufacturing.
Our pickle is a balanced mix of sweet-sour-tangy-spicy. Or as we call in hindi - "Chatpata"
We're soon going to launch more products. If you'd like to know the latest updates, you can sign up on our website.
Consuming 1-2 teaspoons of our dates pickle in a day is absolutely safe.



Generally, dates are safe for diabetics and doctors also recommend them. However, the amount of dates one consume in day depends on the severity of diabetes. Do consult your doctor to understand exactly how many dates you can consume in a day.
Generally, the delivery time is between 2-5 days :)
For any issues related to your order or any further enquiries, contact us at:

Email : contact@aweri.in
Whatsapp : Click here
Call:  +91 8368591359

We're always there for you and shall get back to you quickly.